CESKY KRUMLOV
UNESCO listed World Heritage Site
10 hours including journey

Location of the town in the meander of the river with medieval castle overlooking the whole valley from the top of the hill, incredibly well preserved old architecture of gothic, renaissance and baroque houses provides you unbeatable experience from Czech countryside.
After driving 2,5 hours from Prague - coffee break on the way recommended – we arrive to Cesky Krumlov. We will visit the castle interiors, with fairy-tale refurbished rooms. There are many things to see there. For example huge, real horse drawn carriage - completely gold plated!
But my first warning
- usually groups are too big and there are always complains about it - visitors can't hear properly and guides there are usually not really good.
So think about skipping interiors.
There is an option - one of the tours in the Castle takes you into the completely preserved baroque theatre, the oldest theatre in Europe. Guides here are usually better trained and groups are smaller, as my clients appreciate. You pay a bit more - 300CZK and I recommend to buy tickets in advance, on the internet, but if you are interested into such sight, you will certainly enjoy it!
Than we can enjoy amazing view over the town center from the massive tower or just from the castle terrace. Or we can visit castle gardens. And then, when walking around the town, you will meet on every other corner symbol of the rose. It is a sign left here by once the most important Czech noble family Rosenberg, which lived here for 300 hundred years. There are other sights to visit – former Jesuits college, st. Vitus church, Egon Schiele gallery, Eggenberg brewery…
There will be enough time to take hundreds of pictures, visit local shops with handmade souvenirs, enjoy Czech food in some typical Czech restaurants or try local beer Eggenberg in some of traditional little pubs.
Now second warning
- despite Cesky Krumlov is my second favorite place in my country, following Prague, I must to admit one thing. Cesky Kurmlov became recently so popular, that is too overcrowded, particularly in high season at weekends. If you have got a problem with crowds in narrow medieval streets, consider visiting Cesky Krumlov in low season or pick another destination in the Czech Republic, Kutna Hora for example.
Please, note: the castle in Cesky Krumlov is closed during the winter season. It is open Tuesday to Sunday from April 1 to October 31. If you still want to visit this beautiful place when the castle is closed, I can suggest you to explore more Ceske Budejovice town (the place, where Czech beer Budweiser is brewed!), or Tabor town (medieval architecture) on the way.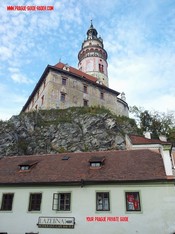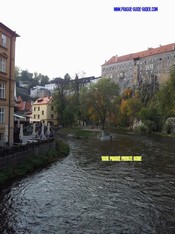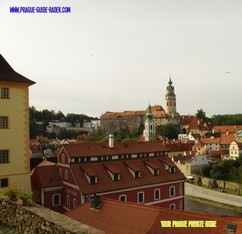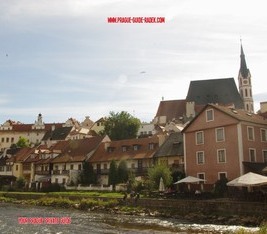 | | | | | |
| --- | --- | --- | --- | --- |
| Countryside tours | Duration | 1 - 2 people | 3 - 6 people | Bigger groups |
| Cesky Krumlov | App 10 hours | 9700 czk | 10000 czk | Upon request |
| Extras | 1 hour | 900 czk | 900 czk | Upon request |
Entrance fee: 260 CZK per person.
Students until 26 and seniors over 65: 180CZK. The ID Card required.
PLEASE, USE CURRENCY CONVERTER BELLOW TO CHECK THE PRICE IN YOUR OWN CURRENCY. THANK YOU.
CASH PAYMENT AT THE BEGINNING OF THE TOUR. If you decide to continue after official duration of the tour, you will pay the rest at the end.
Entrance fees are not included in the price and may slightly vary.
Cesky Krumlov is quite far away from Prague so I do not recommend to use public transport at all..