KARLOVY VARY
Spa, relax, hot spring, local liqueur, Czech crystal…
9 - 10 hours

Once more Charles IV! He established this spa town in the 14th century. Even then they recognized healing power of local hot springs. The town became later very popular among celebrities from all over the world: Emperor Franz Josef I and his wife Sisi, Karl Marx, Goethe, Beethoven, Atatürk, Sigmund Freud, Chopin… This place is also visited every year by many movie stars, since there is annual international movie festival.
Foreigners know this town as Carlsbad. It is the largest and them most famous spa town in the Czech Republic. About 50 000 patients from 80 countries and some 2 million short-term visitors come to Karlovy Vary every year. It is situated in the valley and town itself is a combination of houses and green area.
You will hear lots of stories about famous people who spent here certain part of their life, about their love affairs, flirting, disappointment… We will visit all important sights including churches, colonnades, hot springs – which you can taste, if you wish. The most famous of Karlovy Vary springs is called Sprudel which is 72°-73°C hot and spouts from a depth of about 2000 meters. You can admire impressive architecture of luxurious hotels, spa houses and colonnades. You can also have a coffee when watching lovely houses along Tepla river and spa visitors walking around. You can visit crystal factory Moser and to see glass blowing and hand shaping, you can taste famous Czech liqueur Becherovka directly in the distillery, you can take a cable car to the top of the hill to get nice view over the whole valley from Diana Viewing Tower or you can swim in the open air swimming pool with hot spring water...
My personnel suggestion is to combine this tour with the visit of one of two castles nearby – Loket or Becov nad Teplou.
Please note - The Moser Crystal factory is not open on Sunday.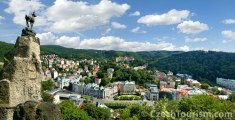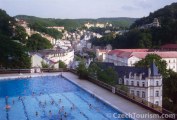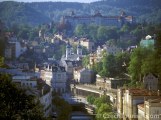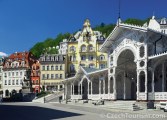 | | | | | |
| --- | --- | --- | --- | --- |
| Countryside tours | Duration | 1 - 2 people | 3 - 6 people | Bigger groups |
| Karlovy Vary | App 10 hours | 9700 czk | 10000 czk | Upon request |
| Extras | 1 hour | 900 czk | 900 czk | Upon request |
Entrance fees:
BECHEROVKA distillery 120 czk per person.
MOSER crystal factory 180 czk per person.
PLEASE, USE CURRENCY CONVERTER BELLOW TO CHECK THE PRICE IN YOUR OWN CURRENCY. THANK YOU.
CASH PAYMENT AT THE BEGINNING OF THE TOUR. If you decide to continue after official duration of the tour, you will pay the rest at the end.
Entrance fees are not included in the price and may slightly vary.
Karlovy Vary is easy accessible by public transport. If you want to visit just Karlovy Vary and you do not mind to lost a bit of comfort, you can take a bus. It takes about 2 hours to get there from Prague. If willing to visit Moser factory in Karlovy Vary, which is off the city centre, or if visiting other places outside Karlovy Vary, I recommend to take a private car.