KARLSTEJN
Medieval castle
6 hours

Once being in Prague, you will meet the name Charles IV (Karel in Czech) on every other corner. It seems like he had everything built in Prague. And no wonder, that he also had this impressive fortress, named after him Karlstejn, built in the 14th century. The designation of the castle was very special – to accommodate and protect imperial crown jewels! And also holy relics of saints, even holy relics related with Jesus Christ!
After arriving to the parking place, we will be walking through the village on the slope of the hill, where the castle is situated. Or you can use horse drawn carriage to save some energy instead of walking up. Walking down after visiting the castle will be easier, but a bit longer, since there are many restaurant, cafes and little shops with souvenirs in the village.
There are 2 visitors route in the castle. The most visited no1 tour takes you to interiors of the Imperial palace and the lower floors of the Marian tower with valuable equipment of 14th to 19th centuries. (Courtier's Hall, Hall of Knights with chapel of St. Nicolas, Chapter Deanery, Royal Bedroom, Audience and Banquet Halls, Hall of Ancestors, Treasury and Jewels Hall, former castle prison). Reservations are not required for individuals and groups up to 10. It is open daily except for Mondays, with other limits in November, December, January and February. Ask for details if you plan to come here in winter. Admission: 250,-Kc (14USD, 10EUR), students 150(8/6)
Tour no2 includes the most valuable interiors - passes through the Marian and Great towers and offers visit to the Church of Our Lady, Chapel of St. Catharine, former Sacristy, suspension wooden bridge, museum of lapidary, castle's picture gallery, library with exposition of the last reconstruction of the castle as well as the Holy Cross Chapel. (Every visitor is required to book this tour in advance) Tour will be open from 1st June 2010 till 31st October 2010.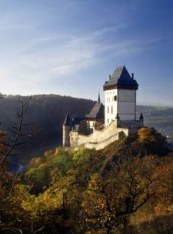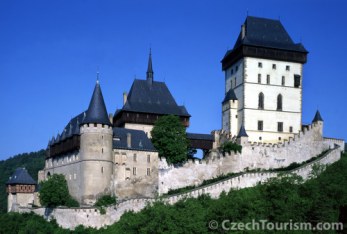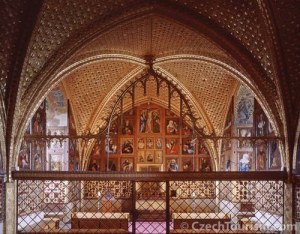 | | | | | |
| --- | --- | --- | --- | --- |
| Countryside tours | Duration | 1 - 2 people | 3 - 6 people | Bigger groups |
| Karlstejn Castle | App 6 hours | 5800 czk | 6500 czk | Upon request |
| Extras | 1 hour | 900 czk | 900 czk | Upon request |
Entrance fee: 330 CZK Tour I / 580 CZK Tour II per person.
Students until 26 and seniors over 65: 120CZK Tour I / 400 CZK Tour II. The ID Card required.
PLEASE, USE CURRENCY CONVERTER BELLOW TO CHECK THE PRICE IN YOUR OWN CURRENCY. THANK YOU.
CASH PAYMENT AT THE BEGINNING OF THE TOUR. If you decide to continue after official duration of the tour, you will pay the rest at the end.
Entrance fees are not included in the price and may slightly vary.
Karlstejn castle is easy accessible by public transport. There are frequent trains running between Prague and Karlstejn, though there is a bit longer walk from the train station to the castle.