KONOPISTE
Romantic chateau
5 hours

The successor to the Austrian throne, Archduke Franz Ferdinand d' Este, had been waiting here in Konopiste Castle for long time to become an emperor of the Austro – Hungarian Empire. But he was assassinated, World War I started and eventually Hapsburgs lost both the war and the whole empire. And also this castle, which became property of the Czech state. And thus you can visit once strictly private residence of Franz Ferdinand. You can see amazing collection of weapons, hunting trophies, lots of paintings, beautiful furniture… Everything, what you expect from romantic, real aristocrat's residence.
Once medieval castle, later rebuilt on the orders of Ferdinand d' Este into romantic chateau, is also surrounded by deep forests, lakes, meadows… It is really pleasant walk in hot summer afternoons.
After driving one hour south of Prague, you can walk up the hill, or you can use tourist little train (2EUR) or vintage car (8 EUR) to save some energy instead of walking up. You can visit rooms of Franz Ferdinand d' Este, you can have a coffee in the castle café, you can relax and enjoy another beautiful day in the Czech Republic.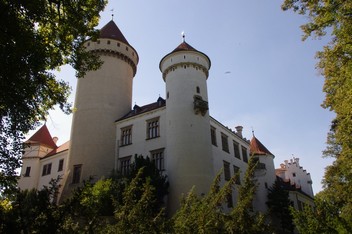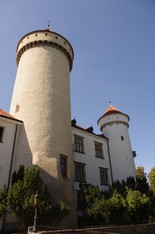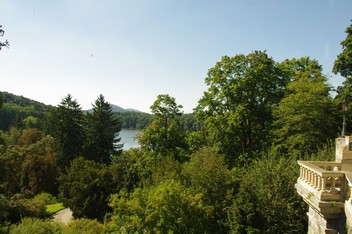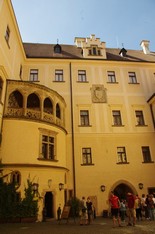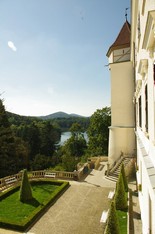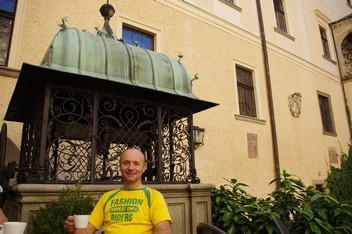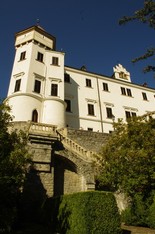 | | | | | |
| --- | --- | --- | --- | --- |
| Countryside tours | Duration | 1 - 2 people | 3 - 6 people | Bigger groups |
| Konopiste Chateau | App 6 hours | 5800 czk | 6500 czk | Upon request |
| Extras | 1 hour | 900 czk | 900 czk | Upon request |
Entrance fee 300 czk per person.
PLEASE, USE CURRENCY CONVERTER BELLOW TO CHECK THE PRICE IN YOUR OWN CURRENCY. THANK YOU.
CASH PAYMENT AT THE BEGINNING OF THE TOUR. If you decide to continue after official duration of the tour, you will pay the rest at the end.
Entrance fees are not included in the price and may slightly vary.
Though easy accessible by public transport, I would recommend to use private car, since the direct connection between Prague and Konopiste are not so frequent. If missing the bus, we would have to wait a long time for another one.