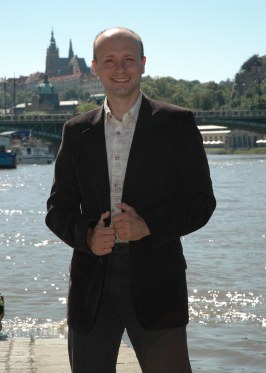 ABOUT ME
I was born in Brno, the second largest city in the Czech Republic. After graduation from the university in Opava town, School of History, I did several jobs and I eventually started to work as a guide in 2004. Despite Master's Degree in History is truly best qualification for guiding, I didn't hesitate to pass exams to become licensed guide.
So I have been guiding for nearly six years.

My qualification:
History Master Degree 1996
Prague guiding license 2004
Jewish Museum license 2005
Prague Castle license 2005
National Gallery license 2010
Maybe you would like to know something about me.
Except for
HISTORY
, I have got lots of hobbies.
For instance:
LITERATURE.
Some of my favourite writers: Milan Kundera (Czech writer living in Paris, famous book The Unbearable lightness of being was turned into movie as well), Harry Mulisch (Dutch Jewish writer, great novel Siegfried, where he got even with Adolf Hitler probably the best way he could), Gabriel Garcia Marquez (famous for his magic realism), John Steinbeck (Grapes of Wrath, hundreds of pages and you just can't stop to read…), Bohumil Hrabal (another Czech writer, very original, you can buy his translated books in English), Imre Kertesz (Hungarian survivor of holocaust, awarded with Nobel Prize for literature). Everyone should know one name associated with Prague: Franz Kafka.
SPORT.
Nobody should be really surprised that in the country, which gave to the world names like Martina Navratilova or Ivan Lendl, also I follow tennis. And I do play sometimes as well… Otherwise, if having time, I try to jog, I visit sometimes gym, I do also swimming, skiing…
THEATRE.
There are so many names of playwrights I like, but I would like to promote two of them – the first one is Irish playwright Martin McDonagh, always rough and funny (plays like The Beauty Queen of Leenane, The Lonesome West)
And the second one - our former president and my hero Vaclav Havel is playwright too. But his plays are appreciated mostly by quite demanding audience.
HIKING.
What a great relax. Just couple of friends, mountains, blue sky over my head, amazing views, nature… I made hiking trips to Slovakia couple of times, Pyrenees, Rumania, Bulgaria…
TRAVELLING.
The time when I was travelling as a student by hitchhiking around Europe is over. But funny stories are still in my head and if you want to hear some of them…:-) I still keep travelling, but a bit different way now.